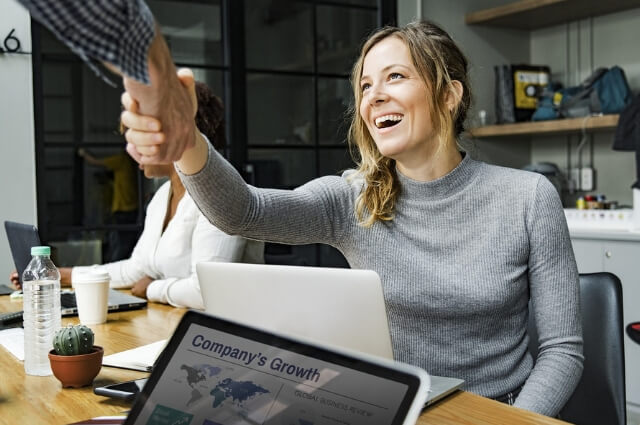 Manage existing relationships rather than seeking new ones
September 14, 2018
8 ways for small businesses to encourage staff to recycle
October 26, 2018
13 ways to use picture quotes in your business marketing
A quote to go viral
A good quote can bring smiles to our faces, tears to our eyes and make us feel generally better about life and ourselves. The right words combined with an emotional backdrop can make a powerful statement and make a post go viral. Which if we are honest is what every business hopes to achieve.
The number of quotes posted on the internet on a daily basis are far too many to quote, pardon the pun. Quotes are read, liked and shared all over social media. They are easy to create and provide inspiration, motivation and provoke thought. But how can small businesses use this type of content within their marketing strategy to engage readers and promote their brand?
Firstly, let's not confuse a branded business quotes with a meme. Why, well because they are two different styles, with different intentions, targeted to different audiences.
Memes
The word meme, pronounced phonetically with a silent e, was first coined by Richard Dawkins in 1976 to explain how information spreads. They were originally developed to promote a humorous comment with the intent of getting the message passed from person to person. A meme is created by applying text, overlayed onto a funny picture. The text is typically written in capital letters and positioned at the top and/ or the bottom of the picture, they are a shout out to an audience.
A meme would convey a funny, catchy, sarcastic or just plain rude comment based around a theme or a current topic. The topic could be about anything, political, entertaining, news, jokes or celebrities to name but a few. The more up to date and funnier the meme, the quicker it tends to spread. Memes that gain the most traction are those that feature a famous person usually doing something silly.
Business Picture Quotes
Unlike a meme a business picture quote offers marketing teams a more sophisticated and stylish way to deliver a quote or a message to promote a business. It's considered to be less salesy and is great for promoting brand awareness. Using a similar approach to that of a meme, by applying text over a background, a business can deliver a powerful punch to its followers.
The style is usually adopted by businesses as an alternative way to create quick original content, with the added bonus of keeping posts varied and fresh on a daily basis.
Here are 13 tips to get the most out of your business picture quotes:
1. Use relevant quotes
It may seem obvious but try to use quotes that are relevant to your business. If your business has a serious professional tone stick to using quotes by authors of a similar nature. E.g you probably wouldn't want to use a quote by a controversial celebrity to promote a serious business message.
2. Create your own message
You don't just need to use quotes by others, to avoid the risk of churning out the same old quotes as used by your competitors try writing your own. Make it a collaborative team effort, get your staff to provide ideas of topics, words and catchy quotes that could wow your audience and make it go viral.
3. Post using popular hashtags
Use keyword Hashtags to enable your post to be indexed by social networks and found by other users. This is a great way to attract more people to your post. There are thousands of hashtags to choose from with some reserved for certain days of the week e.g #mondaymotivation or #thursdaythoughts. But be cautious and don't use too many, the more you use the greater the audience potential, but it can look spammy.
4. Use your own hashtag
As well as using popular hashtags try creating your own. Like domain names you may be hard pressed to find one that isn't already taken but apply some creativity and aim to keep it short, relevant and catchy.
5. Reciprocate other companies posts
The usual etiquette for anything social is to like other businesses posts. This is not only polite but a great way to get others to like your posts. Go through your feeds and start liking and sharing those quotes produced by others that fit with your brand and ethos of your business.
6. Use an identifiable style
Create a style in line with your brand and use this as your template. Your own style will help your audience identify the picture quote to your brand. Use your company colour scheme and font for the text to create an instant recognisable post.
7. Give credit
When using a quote by someone else you need to give them credit for what they said. Include the name of the person who originally said the quote. Always ensure that the quote has come from a reputable source to avoid misquoting. There are tons of quote websites and apps to help you find that perfect quote.
8. Watermark your picture quote
Each picture quote should subtly include your company name or your unique hashtag. Try to avoid placing your logo onto the quote as this not only takes up space it also deters others from sharing. Instead discretely place your company name somewhere within the design.
9. Keep it short
Try to use short sharp quotes, too much text placed onto the template can look messy and takes longer to read. You have approximately 2 seconds to grab your audience's attention, use this time wisely.
10. Schedule at the right time
Posting your quote at the right time can either help or hinder the interaction with your audience. You will find posting guidelines on the internet for each social media channel. But you should approach these as guides only and instead use trial and error to find the best times to post for your business.
11. Be different
Don't be afraid to push the boundaries. Besides the whole point of using this type of content is to provoke reaction, namely engagement. Just remember this is to promote your business and not your personal feelings or your own likes. Dare to be different but don't offend your followers.
12. Use an image
To make your quote stand out use a backdrop image that relates to the words and to convey emotion. Your aim is to make your reader stop whilst flicking through their feed, to read, think and share. Use free stock websites to source your image to make that perfect picture quote.
13. Use video
You don't just need to use a static image, try applying your quote or message to a short video. Video is still the top way of getting higher engagement. There a plenty of free or cheap software you can use to turn a simple picture quote into a video.
Quote of the day
At Halcyon we love a good quote. We try to provide our readers with powerful quotes to help kick start their day. A picture really does say a thousand words even when just using a few words to do it.
To see how we are using picture quotes in our marketing, why not head over to our
instagram account