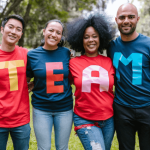 How to foster camaraderie with a remote team
July 31, 2023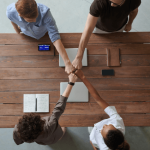 The power of small business partnerships
September 18, 2023
Crafting a standout blog in a saturated market
Small Business blog

Writing a business blog Writing a business blog can prove to be a great strategy for engaging your audience, cultivating your authority in the industry, and driving traffic to your website. However, there's a catch – what once appeared as an innovative concept for small businesses has grown predictable and may lack in interest purely because of the huge volume of blogs that are generated on a daily basis.
To ensure the distinctiveness of your blog consider the following questions:
1. What is your target audience? Understanding your target audience is vital for shaping the blog's personality and character.

2. Are you an expert in your field? For a profound impact it's imperative that you possess a good understanding of your domain in which you can demonstrate your experience.
3. What topics are relevant to your business? Stay true to your brand and write about subjects that draw attention to your products and services.
4. How often should you write a blog? The frequency will depend on several factors including resources and time, but it's also about striking a balance between consistency and quality.
The above provides a foundation in which to think about the various kinds of blogs you want to write, how often you should write them and whether you have the skills to do so effectively. But you also need to consider the topics aiming to expand upon the monotonous and instead grab your readers attention in novel and captivating ways.
Here are some ideas for topics to include in your business blog:
Industry insights: Keep your audience informed about the all the latest developments in your business sector and share technological advancements, regulatory changes that could impact your audience.
How-to-guides: Provide step by step instructions on how to address and resolve your customers' most challenging problems. Research and expand upon the standard answers offering a unique insight into solving the issue.
Tips for business growth: Share practical tips, strategies, and insights on growing a successful business. Covering topics such as marketing techniques, sales strategies, customer relations hacks and financial management.
Guest blogs: Expand your reach by inviting experts in your industry to star in a guest blog to offer a fresh perspective and diverse interest to your audience.
Industry events and conferences: Write about industry events, conferences, or trade shows you attend. Share key takeaways, interesting sessions, and networking experiences to help your audience stay updated and provide a valuable resource for those who couldn't attend.
Infographics and visual content: Create visually appealing and informative infographics that simplify complex concepts or present data in a visually engaging way. Visual content is highly shareable and can increase the reach of your blog.
Company news and updates: Share company milestones, product launches, new partnerships, or any other significant updates. This keeps your audience informed about your business and fosters transparency.
How to promote your blog?
While it's important to showcase the blog on your website it should also be shared on your social media channels to maximise traffic and to help grow your audience. However, you must aim for distinction which requires creative thinking before publishing. Don't constraint yourself to the conventional and instead utilise various creative methods of content ideation to make your blog standout.
Summary
While business blogging may seem a bit old hat it still has the potential for audience engagement, industry authority and can help drive traffic to your website. However, in this ever-evolving landscape what once was an easy challenge has fallen foul to digital saturation.
This can be overcome by not limiting yourself to the traditional method of writing and publishing. Instead transform your blog into multiple types of captivating content that will grab your audience's attention, propel your brand, and ultimately attract more readers.