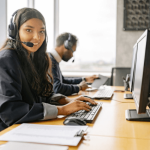 Elevate your customer service with a simple recipe for success
November 3, 2023
The smallest of details can make the biggest impact
Why do customers choose your business?
In the realm of small and large businesses, the smallest of details can wield significant influence. Consider this question: Have you ever wondered what propels your customers to choose your products? Whether it's your unparalleled customer service, award-winning products, intelligent pricing, or compelling marketing strategies, recognising the factors that makes your company meaningful to customers is crucial.
While undertaking this task you may be surprised to find that the fine line between success and failure may, in fact, be because of subtle nuances and distinctive touches that set you apart from competitors, forming a unique footprint. In today's fiercely competitive digital landscape, customers demand more than just discounts or special offers. They are searching for a holistic and enriching experience that goes beyond the allure of cost savings. Instead, and more importantly they want a seamless, personalised, and memorable journey.
So, how can you implement such a process? Consider these three strategies to cut through the noise and ensure your business is not only heard but seen by potential customers.
Identify your differentiators
Every business possesses elements in which it excels compared to its competitors, these are your differentiators. Incorporate them into your sales and marketing strategies. Begin by compiling a list that encapsulates your business essence, interwoven with your ethos, mission, and goals. To makes this process meaningful aim for about ten aspects. Compare this list with your closest competitors, tweaking it to include elements they lack. Promote these distinct features within your company, sales, and marketing teams, and prominently on your website and social media channels.
Go beyond the obvious
In the retail sector extra touches such as branded packaging can send customers home with a memento and a smile on their face. Perhaps they will love the packaging so much they keep it rather than discarding it in the recycling bin. This keepsake is vital for ensuring the brand is always at the forefront of their minds the next time they are contemplating making a purchase. Service-oriented businesses face a unique challenge, and therein lies an opportunity for creative thinking. Going beyond the expected means crafting experiences that linger in customers' memories. In a world inundated with transactions, it's those businesses that weaves these nuances into their interactions that not only stand out but also create connections with their customers.
Customer experience is key
Expressing gratitude for your customers' business is a simple yet powerful touch. While brick-and-mortar stores have the advantage of face-to-face interactions, e-commerce businesses can create a lasting impact through a seamless customer experience. Ensure that every communication touchpoint is optimised, providing customers with the information they need and making it easy for them to reach out if necessary. Whether it's a personalised email, an unexpected bonus, or a bespoke service tailored to their needs, these gestures become the signature of a business who cares about their customers experience.
Summary
Harnessing the power of small touches is a formidable strategy to keep your business at the forefront of customers' minds. Standing out doesn't always require grand gestures; often, it's the subtleties that leave a lasting impression, making your business memorable and encourage customer loyalty.
The essence lies in the details, a handwritten thank-you note accompanying an online purchase, the seamless navigation of your website, the personalised follow-up email. These may seem like small details, but they ultimately have the power to resonate, forming an emotional connection with your audience.
So, as the holiday season reaches its heights, implement such gestures to enable continued business success into the new year and beyond.