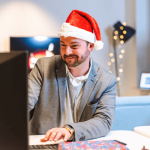 Seasonal Employees – Creating a strategic move for small businesses
October 19, 2023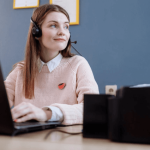 The smallest of details can make the biggest impact
November 17, 2023
Elevate your customer service with a simple recipe for success
Honing customer service teams
As the holiday season approaches, small businesses should be gearing up to provide an exceptional customer experience. This might involve hiring seasonal staff, upskilling existing employees, and ensuring that everyone who interacts with customers is well-trained. This proactive approach is crucial for small businesses looking to compete with larger brands.
So, let's explore how customer service teams can strike the right balance between what customers want and need, ultimately fostering customer loyalty and business growth.
Be friendly, but not too friendly
Friendliness is the cornerstone of effective customer service. Experts recommend being friendly, but there is such a thing as being "too friendly." It's essential to maintain a professional and respectful demeanour, avoiding over-familiarity that can make customers feel awkward and uncomfortable. Striking the right balance ensures a positive customer service experience and more importantly can lead to customer retention.
Get to know your customer
Understanding your customers is the foundation of successful customer service. Small businesses should strive to learn as much as possible about their customer including demographics, gender, preferences, and dislikes. This information enables your team to tailor their approach and better relate to customers, making interactions more meaningful and effective.
Going the extra mile
Many businesses claim to "go the extra mile," but this phrase has become overly used, and has therefore lost its impact. Instead, make your commitment to exceptional service tangible and unique to your business. Actions speak louder than words, so focus on delivering service that translates into customer testimonials or measurable metrics that customers can easily understand. The better you relate to your customers the more they will relate to you.
Encourage customer loyalty
Converting one-time customers into returning ones is a simple but powerful strategy. Returning customers are more likely to trust your business based on their past positive experiences and share your brand with friends. Plus, they will also be more receptive to upselling which is another method to generating more sales. However, this doesn't mean you can relax your customer service efforts. Every interaction with a customer, even a returning one, should be treated with the same care and attention as the first, ensuring that their initial positive experience wasn't a fluke.
Offer Rewards
A reward scheme can be a fantastic way to attract and retain customers. Not only does it increase the likelihood of customers returning, but it's also an excellent way to show appreciation. By offering rewards, you thank your customers for choosing your business over others. Consider your own preferences as a customer and think about how loyalty programs and reward schemes have influenced your choices. Apply those insights to create a rewarding experience for your own customers.
Feedback
Asking customers for a review can be more challenging than it sounds. This may be due to apprehension associated with receiving a negative response. However, acknowledging and understanding customers views is crucial for identifying necessary improvements to ensure the ongoing development of your customer service team.
Summary
In the run-up to Christmas and throughout the year, small businesses can stand out by excelling in customer service. Being friendly is a fundamental aspect of this, but it's crucial to avoid crossing the line into over-familiarity. Always be respectful and courteous but go beyond these basics by implementing other strategies to create an award-winning customer service team that keeps them coming back.
By focusing on understanding your customers, going the extra mile in a unique way, and fostering customer loyalty through rewards and exceptional service, small businesses can differentiate themselves from the competition and ensure their success in the long run. So, as the festive season approaches, remember that exceptional customer service should become the gift that keeps on giving.