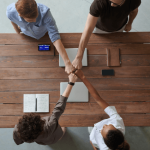 The power of small business partnerships
September 18, 2023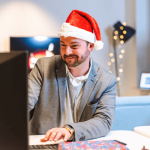 Seasonal Employees – Creating a strategic move for small businesses
October 19, 2023
Working from Home – Navigating the cold, hard truths
Working from home
In recent times, the concept of working from home has woven itself into the fabric of our daily lives. It's become an everyday reality, especially for small business owners who seek to minimise expenses associated with renting office spaces. However, as the days grow shorter and the temperature outside drops, concerns about maintaining a comfortable and productive workspace inside our homes arises. To truly make remote work successful, there are some cold, hard truths that need to be acknowledged, and practical solutions to overcome these challenges.
Cold can slow you down
You might not think much about it, but the environment in which you work can significantly impact your performance. Experts suggest that the ideal temperature for optimal brain function in any home should be around 18 degrees Celsius. This temperature helps keep the blood flowing in a way that enables clear thinking and effective decision-making. Anything colder than this, and your brain will likely suffer, causing a decrease in performance. Moreover, sitting in a cold environment can make you feel miserable, and that's a motivation killer in itself.
Solution:
As the winter season settles in, you'll likely have no choice but to turn up the heating. However, instead of worrying about the impending increase in your heating bills, explore alternative ways to stay warm. For instance, you can invest in proper insulation for your home, wear warm and comfortable clothing, or use energy-efficient heating options to maintain a cozy work environment. The key is to find what works best for you and your budget.
Less exercise
Working from home offers many advantages, including saving time and money on commuting. However, it comes with a downside, less physical activity. Going from your bedroom to your home office means you're missing out on the daily walk to the office, or the steps taken during a regular workday. This lifestyle can lead to feeling more tired, out of breath, and mentally disjointed.
Solution:
To counteract this, incorporate regular exercise into your daily routine. Joining a local gym or fitness class can help you maintain an exercise regime. If you're not a fan of the gym, consider getting a dog. Having a furry companion will not only provide companionship but also force you out of the house for daily walks. Additionally, arrange a coffee with other small business owners or friends in your network. These social outings will not only help you stay active but also provide valuable networking opportunities.
Less breaks or too many
One of the challenges of remote work is finding the right balance when it comes to taking breaks. You might find yourself either taking fewer breaks than you would in a traditional office setting or, taking too many. Both scenarios can harm your productivity and overall well-being.

Solution:
It's essential to establish a routine that works for you. Set an alarm to start your workday as if you were commuting to the office. Schedule regular meetings with your boss or colleagues, focusing on early morning meetings to kickstart your motivation. Plan for breaks during your workday, such as one mid-morning, one during lunchtime, and one in the afternoon. Creating a structured routine will help you maintain focus and prevent burnout while ensuring you take necessary breaks to recharge.
Eating badly
The convenience of having your kitchen just a few steps away when working from home can lead to unhealthy eating habits. You might find yourself snacking excessively instead of enjoying a proper lunch, which can result in health issues, weight gain, or experiencing sugar rushes followed by afternoon lethargy. Alternatively, you may skip meals altogether.

Solution:
To overcome this challenge, take proactive steps to foster healthy eating habits. Ensure your kitchen is stocked with nutritious food options and snacks. Keep an eye on your caffeine intake and try to cut back if you find it's becoming excessive. Prepare your lunch in the morning or the night before, so you have a healthy meal ready to go during your lunch break. Additionally, staying hydrated is crucial for maintaining focus and energy levels, so drink plenty of water throughout the day. Sometimes, even the smallest changes in your eating habits can have a significant impact on your overall well-being and productivity.

Serviced Offices
While remote work offers flexibility, it also demands a certain level of discipline and adaptability. Understanding and addressing the cold, hard truths of working from home can make a world of difference. However, if you find that the challenges of working from home are becoming overwhelming, it's worth considering alternative solutions.
One option is a serviced office. These professional workspaces offer the perfect environment to address many of the challenges mentioned above. They can help reduce the money spent on heating, establish a structured work routine, and encourage physical activity and healthy eating. Serviced offices often come with all-inclusive facilities, meaning you can stay warm and focused on your work without the distractions and drawbacks of a home office.
Summary
In conclusion, while working from home is undoubtedly here to stay, it's essential to recognise and tackle the challenges. Whether you choose to optimise your home office or explore alternatives like serviced offices, the key is to find a solution that allows you to thrive in your work while maintaining a healthy work-life balance.
By acknowledging the cold, hard truths and implementing practical solutions, you can make working from home a successful and fulfilling experience.