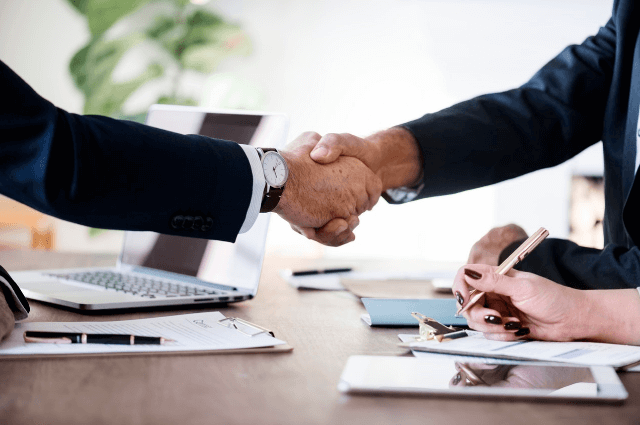 How can small businesses benefit from partnerships?
March 5, 2019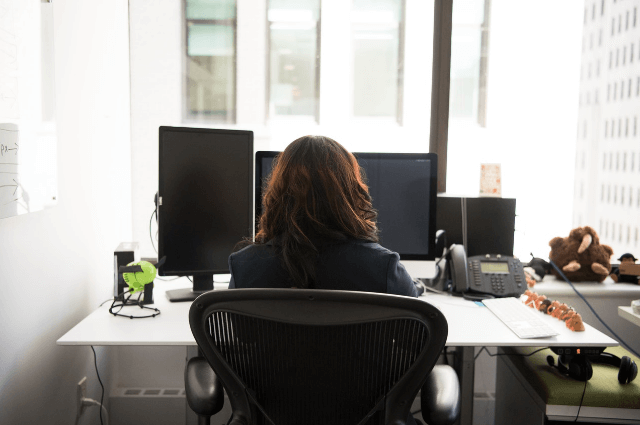 Are your staff at risk of the boredom factor at work?
May 14, 2019
The family holiday making a difference in Africa
How to make a difference
How many times have you wished you could make a real difference? How many times have you done anything about making a difference? Well, don't worry if the answer is nothing, you are in good company. Sadly, most of us, will never get around to doing so.

But if asked, we would probably raise a sincere hand and say, 'Yes, I want to do something to help others and to give back.' But rarely does this declaration translate into action. It's not altogether surprising seeing as most of us lead very busy modern lives, consumed with work, family, personal down time and juggling the general stresses of life.

But what if you could swap the average family holiday and instead of spending two weeks lounging by the pool, head off and do something truly different. Something extraordinary that would impact and benefit men, women and children in desperate need of help. Would you seize the opportunity and go for it?


Putting in action
James Sheppard, Co Founder of Halcyon Serviced Offices, did just that. He decided he wanted to try a different approach for his family holiday, one that would see all of them making a difference. Another family they were friends with (via school so kids the same age) had done some ethical travel holidays and told them how fantastic and rewarding they were. The two families, a party of eight consisting of four adults and four children, set about arranging a trip with Camps International to Camp Kenya.

James, having built a successful career growing multiple businesses, would be the first to admit that he looked forward to having downtime with his wife and twin daughters. Together they have been fortunate enough to have enjoyed a wealth of luxury holidays but this time the Sheppard family wanted to try something different. They wanted to put the desire of giving back into practice so they packed their bags and headed to East Africa.


The trip to Kenya
The party flew overnight from Gatwick to Amsterdam, Amsterdam to Nairobi and Nairobi to Mombasa. After a very long and gruelling journey, the two families arrived in Mombasa where they were collected and taken on a further 4 hour drive to Camps International "Camp Kenya". This is located in the Tsavo area at Itinyi Village. After arriving safely, the group albeit exhausted, were excited to catch a glimpse of where they would be staying.


"When we arrived in Tsavo base camp," said James. "We were shown to where we would be sleeping, a wood and bamboo hut inside a secure compound. It was very basic but clean. They had cold water for everything meaning our illusions of having a warm shower after our long journey were quickly smashed. But we soon settled into camp life and enjoyed the simple but good local food from Joffrey the head chef. At night you could hear the monkeys chattering in the trees and other weird and wonderful sounds, I enjoyed re-reading an old Wilbur Smith novel."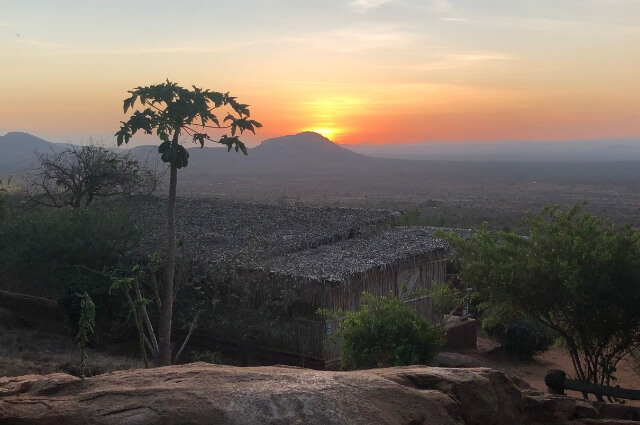 They spent the first part of the week volunteering and helped build the foundations for a new classroom at Itinyi Village primary school. This is one of the poorest regions of Kenya. The camps are run mainly for gap year students staying a month or so but can also accommodate families wanting to make a difference.

Some of the local 8 year old kids would walk 6km to school and back every day just so they could learn. Most of the parents couldn't afford school lunches and with the Kenyan government stopping free meals the previous year, the children travelled the long distance without any food all day.


"My kids were amazed the local children learnt in such basic classrooms and coveted each of their exercise books," said James. "I asked an 11 year old girl in a maths class what the area of triangle was. "Half base times height" she replied in English…. my daughter was amazed…"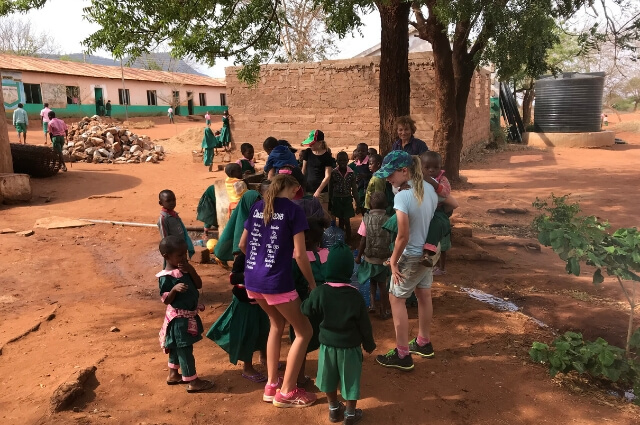 Working with local tools
During the day the group were happy to be put to work. James, considering himself to be a competent person at DIY, soon found himself appointed as the local "expert", laying the stone foundations.


"They had jobs for everyone, Mums, Dads and kids but were delighted I could brick lay, well good enough for foundations. The tools were basic. No cement mixer and I found myself using a clear plastic pipe filled with water as my level. It was certainly interesting," laughs James. "But we did it."
With minimal tools on site the group found themselves learning how to do the work by being creative. With the weather hot and the work heavy going they pressed on making sure that none of the time they had was wasted. As they worked from job to job they found every aspect yet another challenge.


"The cement, needed to hold the stone slabs was hand mixed by my children, and my wife had to carry all the water to and from the site over 100 metres away. I am so proud of both families, when our kids were not playing with the school children, they spent most of the time "pointing" the stone work behind me after I had positioned the slabs. They were great little workers keeping me supplied with cement and never complained. We all worked a full day with a break back to camp for lunch."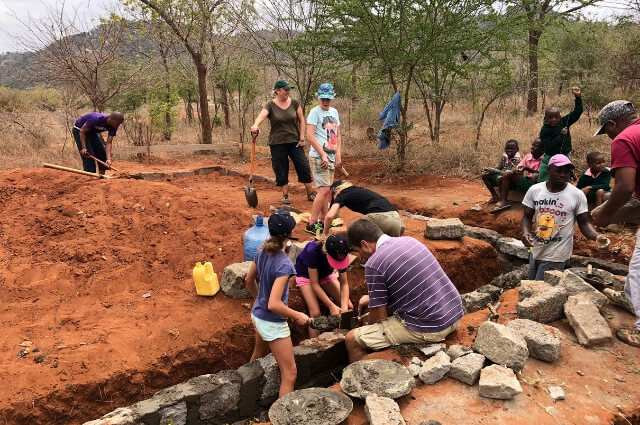 Winding down
With each working day ending at 5pm, the group would return to camp in the dark for a cold shower and dinner. Although the camp had electricity this was reserved only for lights and phone chargers.

James a busy business man and someone used to modern living, said.
"Just winding down without worrying about modern distractions, meant we spent real quality time as a family. We quickly forgot about the stresses back home and instead focused our attentions on each other. It was nice to enjoy a few sundowners and some light reading. But we were surprised to see that the electricity was reserved for phones, everyone in Kenya has a mobile phone!"
Ater 4 days of working, the group downed their tools and went on a two day safari in Tsavo National Park arranged via Camps International who planned their whole trip. They also visited the David Sheldrick Wildlife trust who founded an elephant orphanage. They met their "on line" adopted baby elephant called "Engleye" who was 3 years old.


"This was a fantastic experience and a true credit to David Sheldrick's legacy." said James "our kids stroked and reassured an orphan elephant as part of its rehabilitation back into the wild."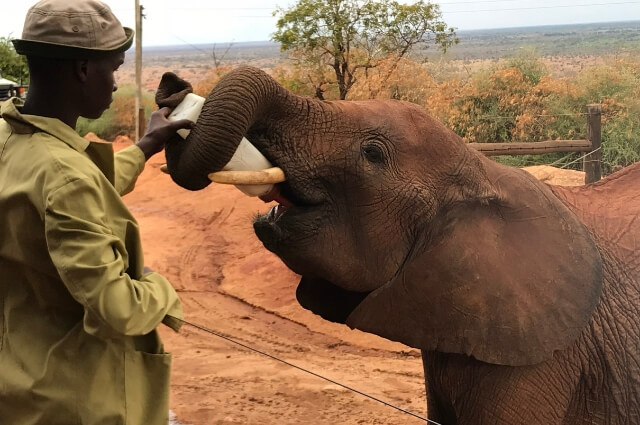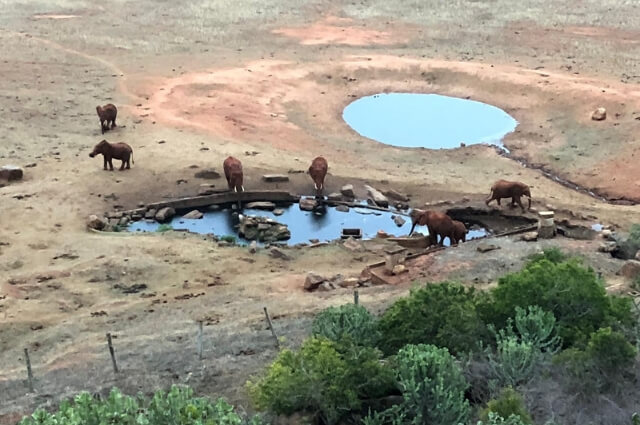 After a week in Tsavo, the group said their teary goodbyes to everyone at the base camp and headed back to Mombasa to spend two days at the beach in a hotel.
Back in the UK
"The week we spent at the Tsavo base camp will stay with us forever, to actually get to do something that made a difference has altered our thinking. A week, although not nearly long enough to make a huge impact, ensured we helped them make a start. And for anyone following in our footsteps they would be able to pick up where we left off and make their own mark. I can't deny that as sad as it was to leave the camp, that we all didn't enjoy the three excellent meals and a well appreciated hot shower at the hotel."
With his children back at secondary school, studying for exams and playing with their friends. James hope's that his girls will somehow be changed by the experience.
"They got to see how people live, the conditions, the water, the food and the daily struggle. When I asked them which part of the trip they enjoyed the most, they said it was working at the village school and spending time playing with the African kids. All ages played happily together, enjoying simple games. My girls have been taught how to play properly again. We are back home now but a small piece of us will remain in Africa as I monitor the buildings progress on Google maps..!"
Itinyi Primary School
For anyone interested in doing something similar or would just like to see more information about Camp International and the base camp at Tsavo, please see the links below.
Camps International School Expeditions
Sheldrick Wildlifetrust